How cute is this name done by Amy at Hey Now, Whoa Now! ? (made using the rag quilt letter tutorial)
For Mother's Day, you could use the rag quilt letters to make a "Happy Mother's Day' Banner or create a framed art that says "Love" or "Mom." Just some ideas 🙂
*Did you make something using a Happy Together tutorial or used part of one as inspiration? Add it to the FLickr Group. Make sure it is sharable if you want a chance at it being in the spotlight.
Onto some other things now 🙂
-I was told about this cool project Evette Rios has done in conjunction with DecoArt. She's a Rachael Ray content buddy, and has been on numerous DIY television shows.
She graciously agreed to work with DecoArt and Goodwill of NY/NJ to create a series of videos using our products to upcycle Goodwill finds to create an "Earth Day Dinner Party". There's a series of 5 videos located here: www.decoart.com/diy
-Next week is Spring Bling over at Sew It To Me!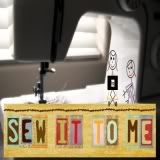 They have a lot of fun things to share and one of my past tutorials is going to featured along with a ton more! So if you are thinking about making some accessories, I suggest you check it out.
-I've been all over lately (and will be a little more), and on Friday I was over on Craft For Health. You can see my little story of how crafts helped me during some big life transitions here.