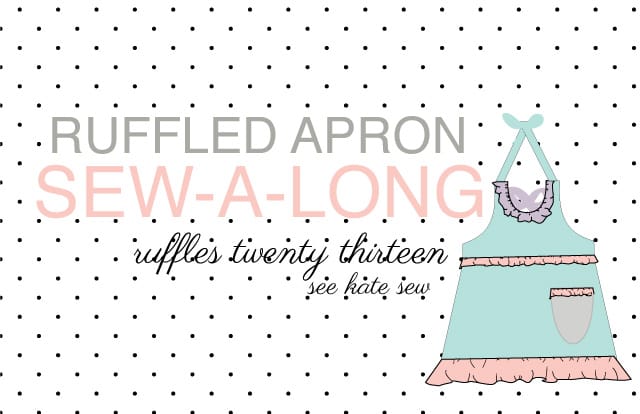 Kate of See Kate Sew has been having a wonderful series full of ruffles on her blog lately. You know, lots of tutorials with things that have ruffles, giveaways, guest bloggers, etc. For part of the series, she created a one size apron free for seekatesew newsletter subscribers or for sale in her shop (see details here). And she's having a sew-a-long for it! She sent the pattern to a few of us bloggers to mix it up some. This is what I made.
I started with this lovely fabric I had bought at Ikea. It's a bit on the heavier side (think tablecloth like), but I kind of like that for an apron. I strategically cut it so the stripes would be where I wanted them. I also used the edge of the fabric that was "sealed" for the ruffle so I would not have to fold it in half since the fabric was thick. And, instead of having fabric straps around the neck, I cut off a purse strap from a purse I bought at a thrift store (see pic below).
I also used this purse to create a pocket for the front. I like the extra texture it adds to the apron.
I appliqued these gorgeous flowers on from a vintage curtain panel I have been hoarding for years.
Seriously. I had been waiting for the right time to cut into it and it seemed that this was the time. I'm so happy to see them in use!
I widened the waist ties a bit, so when I sewed them in place I made a pleat to bring it in. I also decided to tie them by wrapping them around to the front. I would have made the straps longer for this, but I ran out of fabric. And it works good, although I would have preferred a little more length for this.
I'm so pleased with my new apron. It was nice to make myself something this time. And it's totally me 100%! It took me less than an hour to make and would be a great idea for a present. I think I'm going to make one for a house warming gift next for my friend. And even though it is one size, you could easily alter it smaller or larger for whatever is needed. Happy sewing!
-Jess